Your Local Pros How can we help?
Foundation Repair Services in Conroe
Cost-Effective Pressed Piling Solutions from Foundation Repair Specialists Serving the Woodlands & Surrounding Areas
For over 36 years, Level Check Foundation Repair has served homes and businesses with affordable, effective foundation repair services. Keeping your foundation in good condition can be challenging, but it is a challenge we are well equipped to take on. When your structure's foundation is cracked or shows other forms of damage, trust our experts to fix the problem. We offer a lifetime warranty on all foundation repair services, so you can have peace of mind that we'll handle any issue after we complete our work.
For reliable foundation repair services in Conroe, call (281) 843-4314 today. We can also be reached through our online contact form.
Is Foundation Repair Necessary?
The condition of your foundation is a key element to the overall health of your structure. The foundation supports your home or business by evenly distributing its weight to prevent it from settling. Shifts in the soil, expansion, contraction, and drainage problems caused by regional and weather conditions can sink your foundation and cause structural damage. This is usually indicated by symptoms like cracks in walls and brick, uneven floors, doors and windows sticking, chimneys separating from the house, and more.
Foundation problems should be taken seriously, as they can make living or working in the building unsafe and drastically deplete the value of your investment. When your structure has foundation troubles, you can count on Level Check Foundation Repair to develop a permanent solution that is easy on your budget.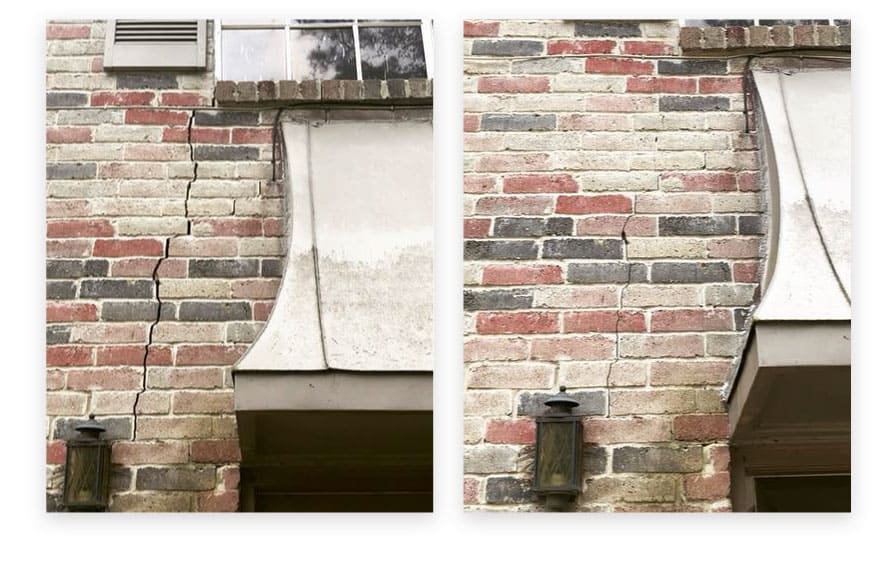 What Are Signs That a House Has Foundation Issues?
Your home's foundation is likely something you don't spend a ton of time thinking about, but we recommend becoming familiar with the warning signs that it's damaged.
Below are 7 indicators that your foundation needs to be repaired:
Water pools around the foundation of your home when it rains
There are cracks in the foundation
There are diagonal cracks on the interior walls of your home
Your doors are sticking or getting harder to close
There are cracks in the exterior walls of your home
There are gaps between the exterior walls and the trim
There is some separation between your kitchen countertops and backsplash
Call Today for a Free Evaluation!
If you suspect your foundation needs repairs, contact us to set up an appointment for a free evaluation and estimate. Our skilled foundation repair inspectors are expertly trained to evaluate foundation problems and use cutting-edge technologies to get an accurate picture of your structure's foundation issues.
We will carefully gather our findings and give you a detailed explanation of what your foundation needs to be restored. We understand that not everyone has the finances to cover such issues, so we will work within your budget and present you with affordable options to get the necessary repair work done without worry.
Call us today at (281) 843-4314 or fill out our online form to schedule your free estimate. Financing options are available to those who qualify.
Everyone was kind, open & honest, showing me what was happening to my house.

"Mark & his crew were very efficient and again walked me through the process & showed me how everything was fixed when the job was complete."

- Rickie P.

Very happy with the services so far.

"Very happy with the services so far."

- Jessica E.

He was extremely professional and honest.

"Honesty and integrity are the key to a successful business and I am very grateful for his honesty and information."

- Melissa M.

Called Level Check for an appt to come give us a quote and Dylan came out the same day!

"Called Level Check for an appt to come give us a quote and Dylan came out the same day!"

- Margie M.

We had the peace of mind to make an offer on our dream home.

"We got a free second opinion from Dylan of Level Check."

- Eric S.
Built On Honesty

Our customers love us because we are transparent and provide honest assessments rather than upsells.

Family-Owned Since 1986

We are a 2nd generation family business with 20+ year experienced crews and do not use subcontractors!

Highly Recommended

Rated #1 by Houston area realtors due to our stellar work performance, customer support and

lifetime warranty

.

Quality Workmanship

We focus on providing quality residential and commercial services at fair, affordable prices compared to major competitors.

Bonded & Insured

We are insured for your peace of mind, and are also FHA/VA approved.

BBB A+ Rated & Gold Star Winners
Foundation Repair You Can Trust
With nearly four decades of experience, Level Check Foundation Repair has developed a track record of success in the industry. Our certified repair teams continue to evolve and keep up with technological advancements and trends — like polyurethane foam injections — to provide cost-effective solutions for our customers. When the integrity of your building's foundation is at stake, rely on our experts to get the job done.
Reliable Residential & Commercial Foundation Repair Services
Our team of experienced specialists is committed to providing the highest quality workmanship and customer service possible. We make it our mission to exceed your expectations. To keep our standards high, we do not use subcontractors. Instead, we employ a well-trained staff of bonded and insured professionals who are ready to work when you need them.
Since 1986, our company has earned a long-standing reputation as a trusted residential and commercial foundation repair business and has been rated A+ by the Better Business Bureau. We have also earned the Gold Star Award by the BBB for nine consecutive years. When you choose us, you are securing the stabilization your foundation needs to last for years to come.
We proudly offer:
Our Foundation Repair Process
STEP 1 - JOB SITE PREPARATION
Our foreman and crew examine the property and begin preparation. Pier locations are marked, excavation begins, and any concrete in the pier location is jack hammered out to allow installation. Holes are dug beneath the grade beam at each pier to allow placement of equipment and pilings.
STEP 2 - PILING INSTALLATION
Using pressurized hydraulic equipment and the house weight, pilings are pressed down into place. As one piling is driven, another is placed on top and repeated until the pilings hit the point of refusal. When refusal is reached, a concrete block is placed between the last piling and grade beam.
STEP 3 – SLAB LIFTING
After piling installation, the foundation is raised slowly and carefully in stages, starting with the lowest portion first. The foreman takes readings and supervises this stage to ensure proper lift. Once the foundation is elevated, steel shims are wedged under the grade beam on top of the piling.
STEP 4 - JOB SITE CLEANUP
The crew begins clean up by backfilling the piling holes. Any concrete that was jack hammered to access the pier is patched back. All debris is removed, and inspection of the home and yard is done to ensure a clean job site for customer approval during a final walk-through.
STEP 5 - CUSTOMER SATISFACTION
The foreman ensures all questions have been answered and the customer is fully satisfied with the job we performed.
Call (281) 843-4314 or complete our online form to request a free evaluation!
Get Started With the Experts
Call
(281) 843-4314

Or Fill Out the Form Below
Level Check Foundation Repair assists customers with excellent commercial and residential foundation repair solutions. Our team is insured, and bonded, and we have the knowledge needed to get the job done right the first time. When you become a customer, we make it our mission to ensure you are satisfied with our professionalism and expertise.
If you have a question about your foundation or want to schedule a free evaluation, fill out the form on this page, and our team will respond shortly.