Concrete Pressed Piling Foundation Repair How can we help?
Concrete Pressed Piling Repair in Conroe
When the integrity of your building's foundation is at stake, rely on Level Check Foundation Repair to get your property stable in no time. Our certified repair teams continue to evolve and keep up with the latest technological advancements to provide cost-effective solutions for our customers. With nearly four decades of experience, our family owned and operated team has developed a track record of success in the foundation repair industry. We specialize in providing concrete pressed piling repairs to homes and commercial properties throughout Conroe, The Woodlands, and the surrounding areas, with no job being too big or small.
To learn more about our repair services, call our team today at (281) 843-4314.
What Is Pressed Piling?
A 5-Point Process Backed by a Lifetime Warranty
Pressed pilings provide your property—including large apartment complexes and office buildings—with additional support and stability. This can be crucial in areas with extreme weather, shifting soil, or soil with high clay content, as the irregular contraction and expansion of the ground beneath your building can drastically affect the foundation—leading to cracks or sloping.
Concrete pressed pilings are thick, vertical cylinders of concrete that are driven deep into the soil under your property. Stacking cylinders until the needed depth is reached, the pilings are then topped by a wider concrete block for further support and distribution of weight underneath your property's grade beam. This time-tested support system is also minimally invasive when compared to other methods and fast to install, often taking as little as a day.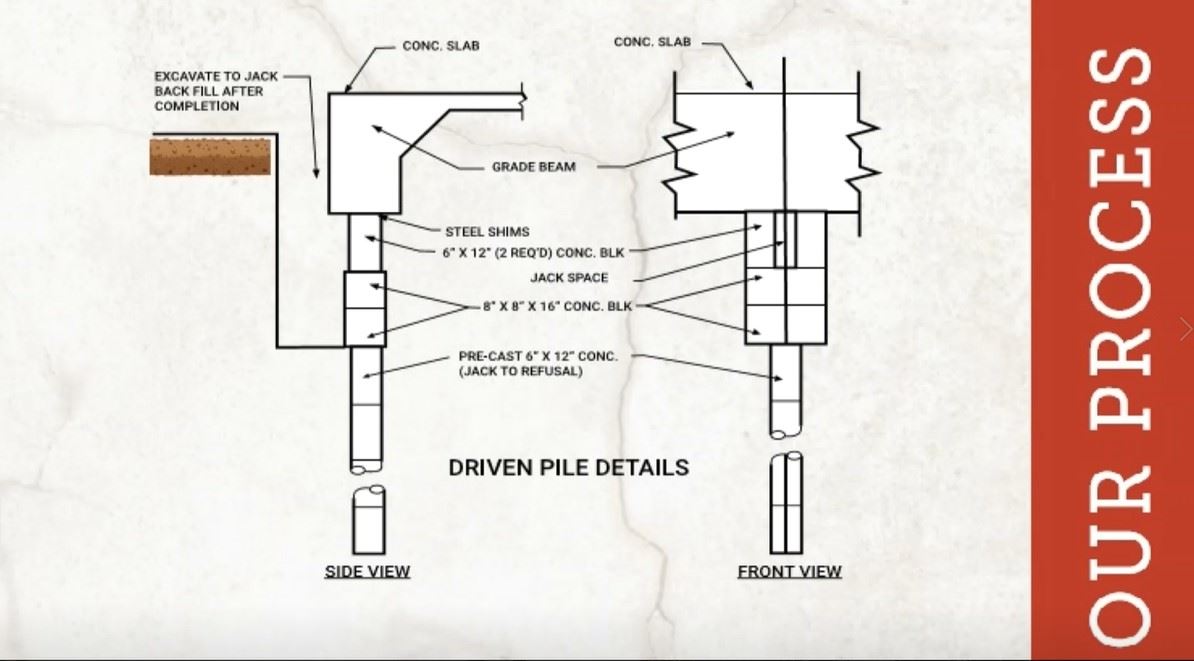 Our process includes:
Step 1 – Job Site Preparation: Our foreman and crew examine the property and begin preparation. The locations of the piers are marked, excavation begins, and any concrete in the pier location is jack hammered out to allow for installation. Holes are dug beneath the grade beam at each pier to allow for the placement of equipment and pilings.
Step 2 – Piling Installation: Using pressurized hydraulic equipment and the weight of the house, pilings are pressed down into place. As one piling is driven in, another is placed on top—repeating until the pilings hit the point of refusal. When refusal is reached, a concrete block is placed between the last piling and the grade beam.
Step 3 – Slab Lifting: After installing the piling, the foundation is raised slowly and carefully in stages, starting with the lowest portion first. Our experienced foreman takes readings and supervises this stage to ensure a proper lift. Once the foundation is elevated, steel shims are wedged under the grade beam on top of the piling.
Step 4 – Job Site Cleanup: Our crew begins cleanup by backfilling the piling holes. Any concrete that was jack hammered to access the pier is patched back. We then remove all of the debris and inspect the home and yard to ensure a clean job site. We then provide a final walk-through with you to get your approval.
Step 5 – Customer Satisfaction: Our foreman ensures all your questions have been answered and that you are fully satisfied with the job we performed.
Getting Our Community on Stable Ground
At Level Check Foundation Repair, we make it our mission to exceed your expectations. To keep our standards high, we do not use subcontractors. Instead, we employ a well-trained staff of bonded and insured professionals who are standing by to get the job done right. Our local company has been rated A+ by the Better Business Bureau (BBB), and we have also received the Gold Star Award for nine consecutive years from the same organization.
With free and honest evaluations, lifetime warranties, and flexible payment plans, we have become the name in trusted residential and commercial foundation repair. For high-quality concrete pressed piling repairs you can count on, look no further than Level Check Foundation Repair.
Call us at (281) 843-4314 or fill out our online contact form to schedule your free evaluation.
Everyone was kind, open & honest, showing me what was happening to my house.

"Mark & his crew were very efficient and again walked me through the process & showed me how everything was fixed when the job was complete."

- Rickie P.

Very happy with the services so far.

"Very happy with the services so far."

- Jessica E.

He was extremely professional and honest.

"Honesty and integrity are the key to a successful business and I am very grateful for his honesty and information."

- Melissa M.

Called Level Check for an appt to come give us a quote and Dylan came out the same day!

"Called Level Check for an appt to come give us a quote and Dylan came out the same day!"

- Margie M.

We had the peace of mind to make an offer on our dream home.

"We got a free second opinion from Dylan of Level Check."

- Eric S.
Built On Honesty

Our customers love us because we are transparent and provide honest assessments rather than upsells.

Family-Owned Since 1986

We are a 2nd generation family business with 20+ year experienced crews and do not use subcontractors!

Highly Recommended

Rated #1 by Houston area realtors due to our stellar work performance, customer support and

lifetime warranty

.

Quality Workmanship

We focus on providing quality residential and commercial services at fair, affordable prices compared to major competitors.

Bonded & Insured

We are insured for your peace of mind, and are also FHA/VA approved.

BBB A+ Rated & Gold Star Winners
Get Started with the Experts
Call
(281) 843-4314

or Fill Out the Form Below
Level Check Foundation Repair assists customers with excellent commercial and residential foundation repair solutions. Our team is insured and bonded, and we have the knowledge needed to get the job done right the first time. When you become a customer, we make it our mission to ensure you are satisfied with our professionalism and expertise.
If you have a question about your foundation or want to schedule a free evaluation, fill out the form on this page or call us at (281) 843-4314, and our team will respond shortly.